Year: 2018
Project type: concept design, master project, and construction design 
Location: Rudeš, Zagreb, Croatia
Rudeš project was envisioned as a private little piece of the universe for young families, standing bravely amidst the flood of housing on the market. Why? How? Find the answers below:
LOCATION
The houses are located in Ratarska, a peaceful and tame street with kindergarten, school, medical centre, public transportation, shopping centres, Jarun lake all nearby. Construction of these houses is the first one planned in the new borough encompassed by the town planning scheme for Rudeš. A tram connection is planned in the future.
SMALLER BUILDINGS
Instead of a hundred apartment mammoth, the investor decided to construct two smaller buildings, with 11 apartments each. Apartments are made for young families, with or without children. The average living space is 80 square meters, and apartments feature large, south-oriented balconies.
MODULAR APARTMENTS
Inside an 80 square meter space, an apartment can have two or three bedrooms. Two-bedroom variant will have a larger living area.
DESIGNED APARTMENTS
Apartments have one installation block. This allows for modularity, but also for the high-quality design with three-sided orientation, a window in each room apart from the toilet. Zones are separated with the north and east/west oriented sleeping area and a south-oriented living area.
SOUTH ORIENTED
Expanding on the previous point, we believe that the south orientation of the living area is much like good mustard on a hot dog, or whipped cream on fresh strawberries. The icing on a cake. Sun warms the area through the glass wall even during winter, while al fresco dining on the large balcony becomes available with the arrival of early spring. Balconies are designed to offer a view in every direction, as well as a view of your kids on the playground.
THE PARK
Park will be located between the buildings. This will allow you to yell at your kids if you spot them sitting on cold concrete. Or for munching on chocolate just before dinner. Or for keying the neighbours uninsured car. Well, one man's loss is another man's gain, as they say.
PARKING
The parking space can be found on the ground level. No descents into a garage and scratched fenders. even if you, unlike your neighbour, do have insurance.
DESIGN
The buildings' design is modern, sustainable and timeless. Neither designers nor investors (for which we are grateful) have succumbed to a modern practice of using every possible square meter for construction. Together, we put in the effort into the design. The BAND is a trademark of this project. Since it spans the walls and the roofs of buildings, the band will be visible from the air. Possibly even from space, with a 20/20 vision.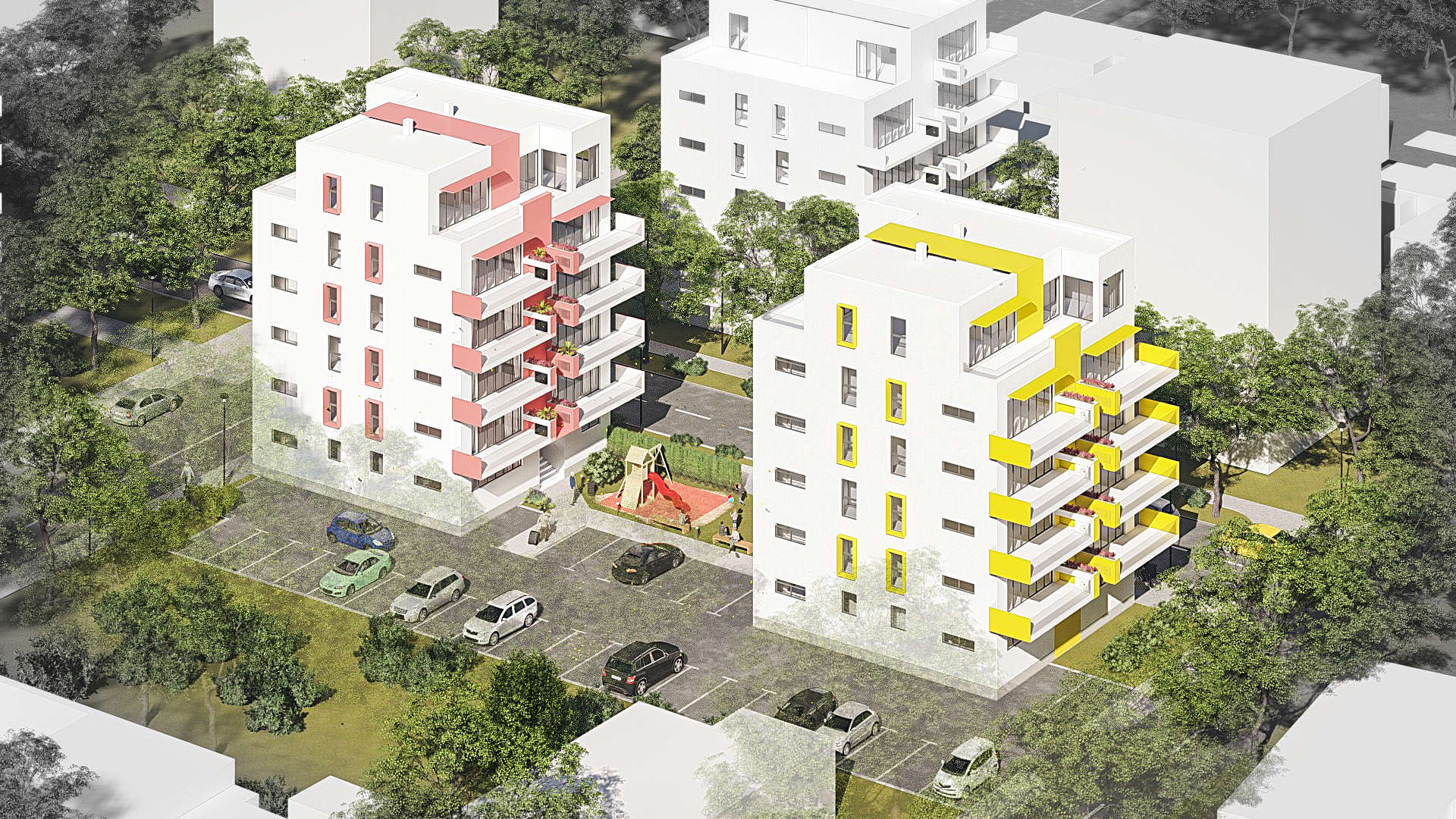 ​