Location: Novi Marof
Project type: residential building
Year: 2021/2022
GBA: 180 m2
floors: ground floor, first floor, attic
Concept: "raumplan"
*Ivan Rabuzin was a Croatian naïve artist. French art critic Anatole Jakovsky described him in 1972 as "one of the greatest naïve painters of all times and countries".
The house concept was affected by the initial state, featuring two steep sides. The location is in the hilly landscape of Novi Marof, overlooking the eastern slopes of Ivanščica. The parcel is narrow and perpendicular to the slope direction, with a ditch towards the approach to the building zone.
"Raumplan" is a planning method based on discrete rooms and dynamic intersections. This method emphasizes individual room-scale and often requires steps for each room or a collection of rooms. It is credited to the architect Adolf Loos. It requires a high level of structural mindfulness and the ability to model the space.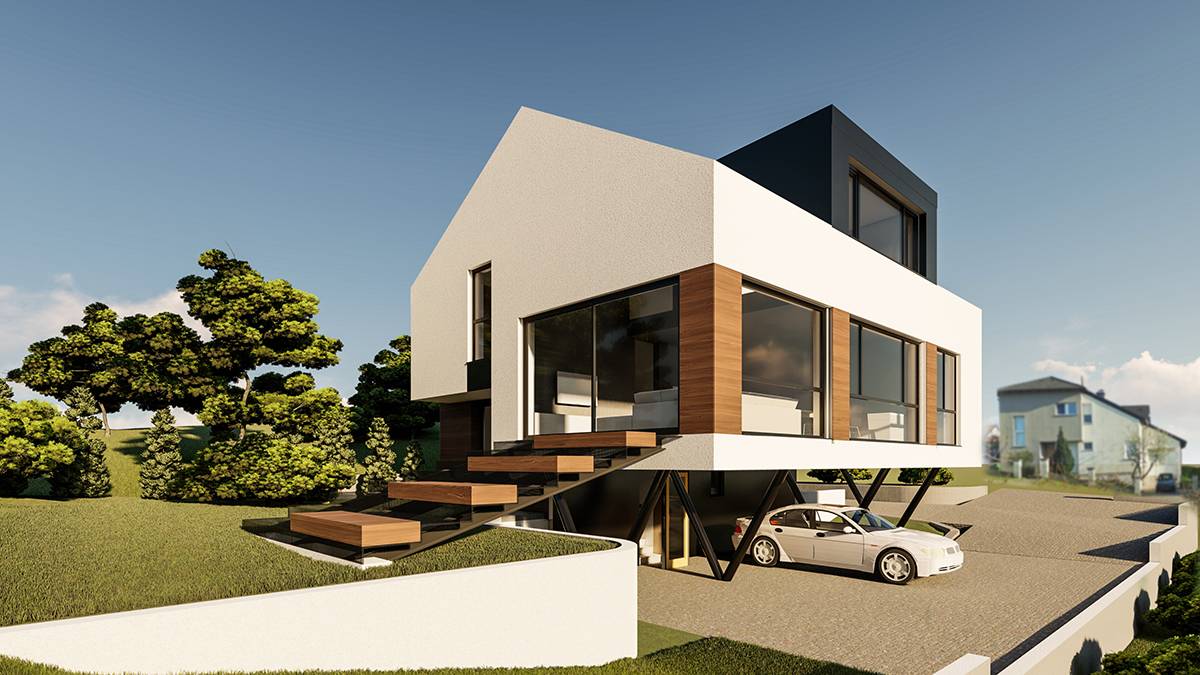 This dynamism answers our task requirements. By following the terrain slope in the transverse direction we defined the ground floor de leveled into two parts. The first is the service one, featuring the secondary entrance from the covered outdoor parking space. The second, higher-level features the main entrance and the ground level of the house with the wardrobe, toilet, the closet, and the study. This area leads to the mid-level open space with a kitchen, dining room, and living room with a beautiful view of the aforementioned hills. The staircases envelop the service rooms. They are separated to clearly define private and public areas. The private one ascends to the private area of the house with two children's bedrooms and the bathroom. At the top of the house, the attic forms another mezzanine featuring the master bedroom that shares the view with the open space.
By including the mezzanines as a main motif of the house, we found a solution that places the living areas above the level of the approaching road and surpasses the neighboring building that could have blocked the view.
Floor plans, sections, facades