godina: 2021.
Year: 2021
Project type: Conceptual design, Master project
Location: Samobor, Croatia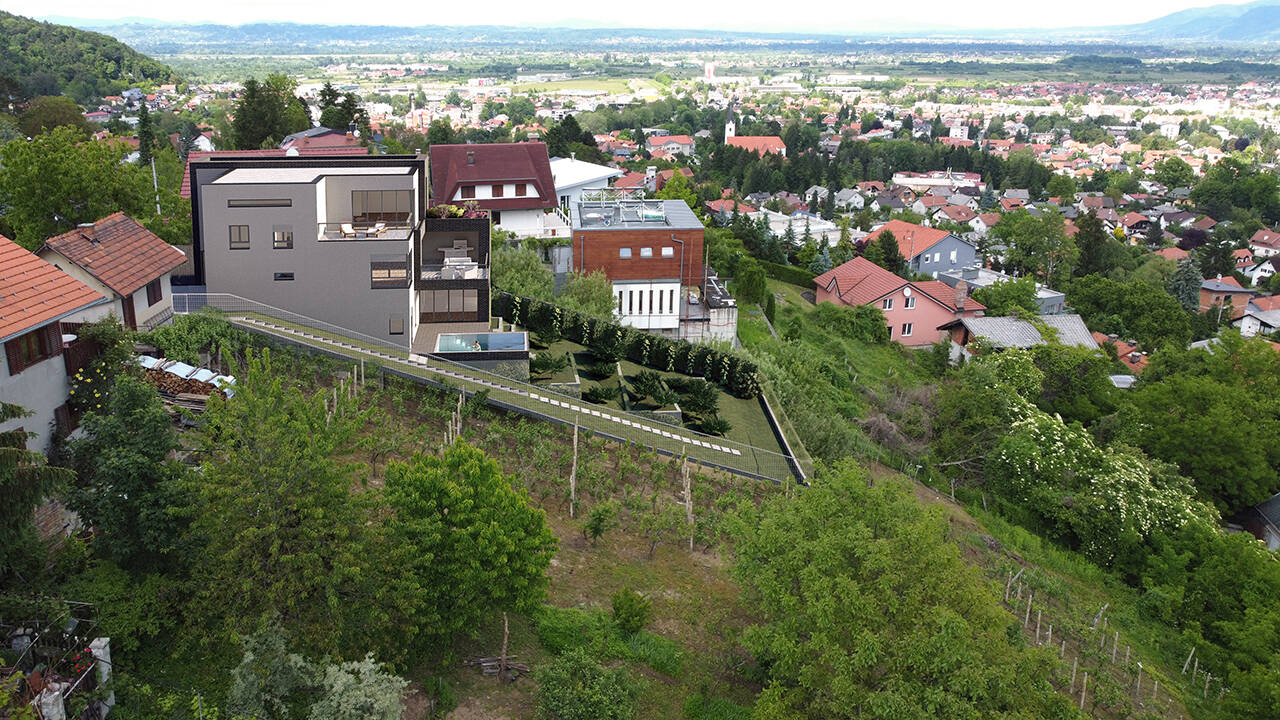 The word "distance" has been really chewed over lately, but what if it's about buildings and not people?
A very dear family of four decided to build a house on the border between the town of Samobor and Samoborsko Gorje. The idyllic beginning of the story had a complicating factor, because even the highest quality city plans, like Samobor, struggle with the consequences of legalization, so it is sometimes really necessary to resort to strict, almost brutal architectural expressions to ensure the family intimacy of the investors and the great use of the potential of the location.
The project task, combined with a very challenging terrain (a drop of more than 20%) and architectural proposals, resulted in a house that visually consists of two volumes – a "bulwark" corresponding to a complex urban situation and closed views in the north, and with it a perforated cube that follows the slope and opens up optimal views for the "hidden" contents. We say that the facade hides the content because there is no hint of the complexity of the interior from the outside, and the use of space planning supports the idea that each room deserves a height that is optimal for its intended purpose, in addition to its floor plan.
Through the longitudinal section, you can see the whole splendor of the house and the division into two wings – the first one has a high space of children's rooms with a gallery above the lower access zone (entrance and garage), while in the second, due to the slope of the terrain, three floors are hidden: a basement area with a guest apartment, a workspace, and a terrace with a pool; an open kitchen, living and dining room with a large terrace; and a master bedroom with a bathroom and terrace on the top floor. The orientation of the spaces is also optimized according to professional recommendations and the needs/habits of future users.
The contrast of the volumes (solid/perforated) and the strong differentiation of the proportions of the spaces is complemented by the combination of materials – the pleasant light shade of the facade of the perforated volume is contrasted with the prescribed volume of the "wave" covered with bricks to create a perfect transition to the beautiful natural landscape and frame the main views to focus on nature and the beautiful view.
This sloping terrain is always a great challenge, but it offers many opportunities to use it. It was decided to form thematic cascades that allow for a more practical and safer use of the terrain, and a procession was left around them, which a technical vehicle for garden maintenance could pass on the south side, while on the north side, between the walls and the adjacent fence, a fantastic toboggan run was left for new tenants and their friends, and we hope that the designers of 4uHa are also in this group.
Floor plans, sections and facades