Project type: Interior design project – A dental clinic interior
YEAR: 2019
No need to visit a stand-up show to turn that frown upside down, as 9 out of 10 experts claim that the design we are about to show you will leave you smiling.
There are many kinds of smiles. Some might lack teeth or two, some are wide, ear to ear grins, while some are just perfect. Creating those perfect ones is the mission of our investors — a young Zagreb based dental centre. It is only reasonable to provide them with a cosy, modern space in which to create their magic.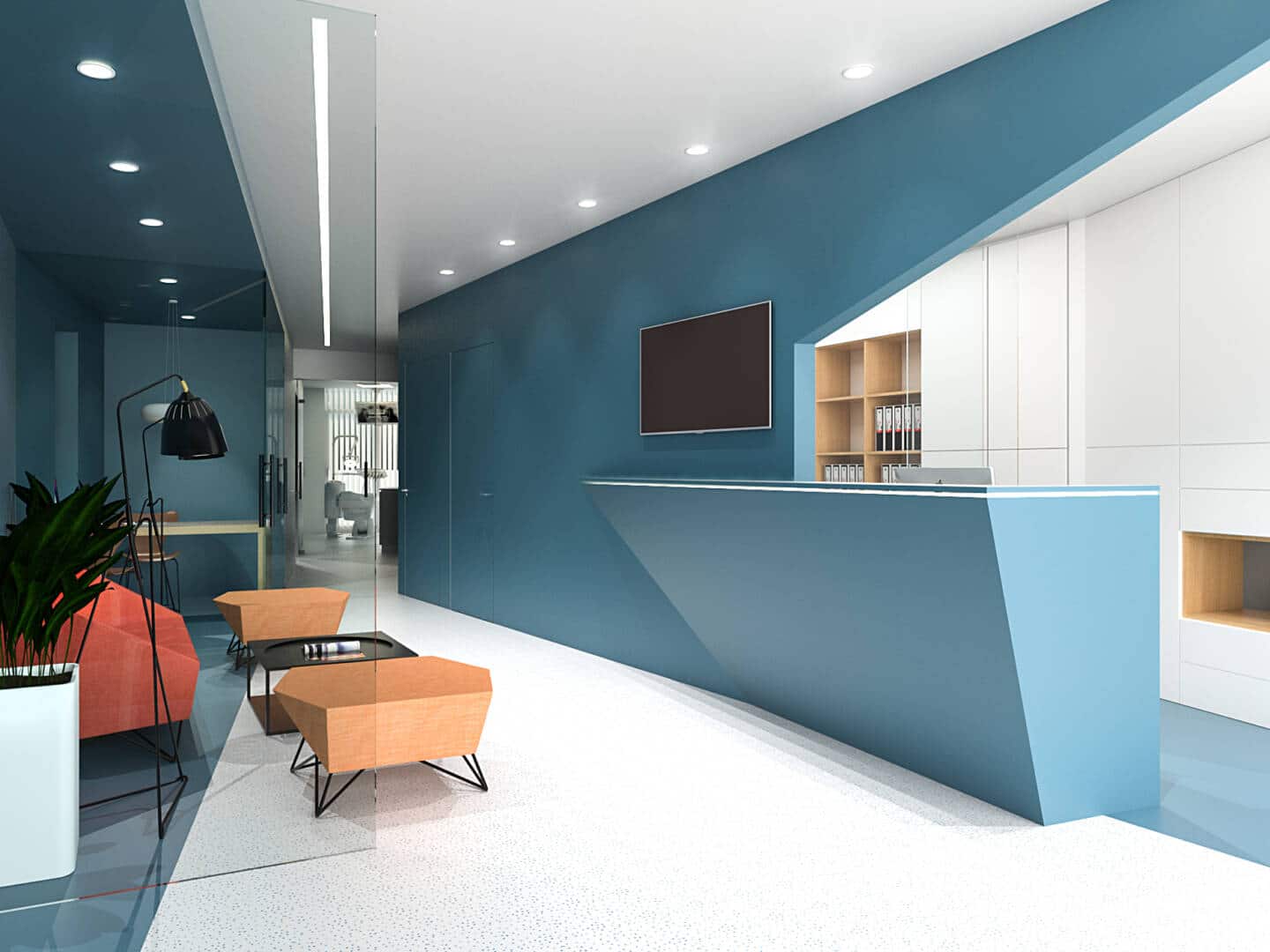 The dynamic of a dental clinic makes for a complex project. The wish to optimize routes of the clients and the staff led us to a quite uncommon design that meets all the requirements with a dynamic, pleasant, modern space that is a breeze to navigate around.
The client automatically understands the procedure from the moment she steps in. The ease of use is crucial, as clients minds upon entering the clinic can often be occupied by busy thoughts.
Entrance space is separated from the clinic by a glass wall that directs the client from the waiting room to the front desk while allowing a complete overview of the clinic.
The front desk is designed as an opening in the wall, behind which are the staff rooms. The wall gradually widens to accommodate all the necessary spaces behind it (reception, office, kitchenette, wardrobe). A smaller, glass-walled conference room extends from the waiting room, with bathrooms for visitors just behind it.
Space ends with two dental offices and a sterilization room. Offices are bathed in natural light and each has a terrace, where happy clients can see the end result of their visit in the optimal light.
One of the main requisites for a healthcare institution is maintenance. All the materials must be easy to clean and sterilize, but at the same time, space needs to retain its character and visual identity.
The main colour we chose is petrol — a blue-green blend that is proven to create a relaxing ambience. A contrasting shift to light-toned surfaces helps the signalization and accentuates the spatial concept. Complementary pastel orange hues can be seen in the offices, enhancing the dynamic nature of the activities happening there.
Bathrooms are designed in a way atypical for the clinic. Almost residential in nature, adding a level of comfort to the clients. Office spaces, conference rooms and kitchenette are adorned with wooden decor, for a touch of warmth.